St. Mary's Academy was founded in 1889 by the Sisters of St. Joseph of Carondelet as a private high school for young women. It is the oldest continuously operating Catholic high school in the Archdiocese of Los Angeles. The six sisters who founded St. Mary's established a tradition of academic excellence, sisterhood and service to the "dear neighbor."
When the population of Los Angeles was about fifty thousand, Saint Mary's enrolled fifty pupils in a parish school on Twenty-First Street near Grand Avenue and on June 28, 1892, the first commencement was held with two graduates. As the city emerged from its "pueblo" days, Saint Mary's increased in facilities and enrollment. By 1903, the original campus comprised four buildings which provided for both a girls' high school and a grammar school, a music and art conservatory, the administrative center of the western province of the Sisters of Saint Joseph, and a boys' school which later became Saint Vincent's Grammar School.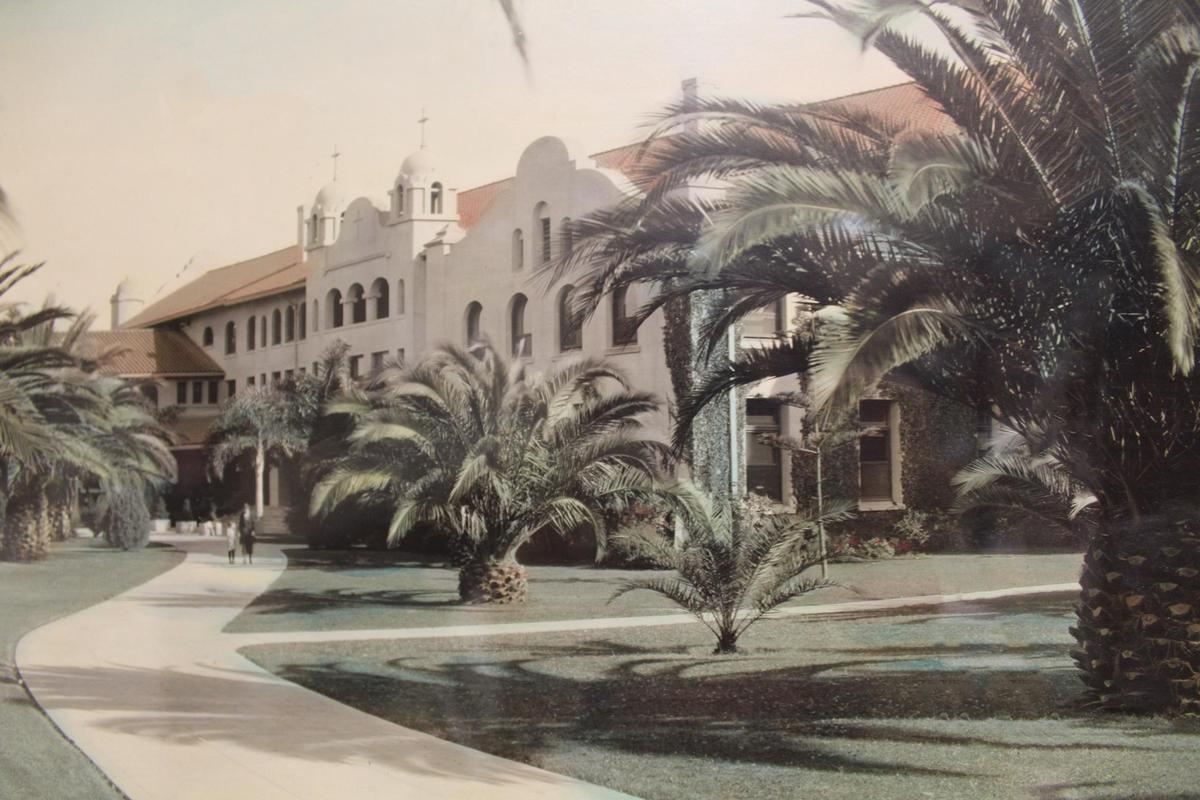 In 1904, the second site of Saint Mary's was purchased at Slauson Avenue and what is now Crenshaw Boulevard. When the new building was completed in 1911, cattle still grazed nearby and the twenty acres that comprised the school property were surrounded by truck farms. The new buildings provided accommodations for two hundred boarding students, and classrooms were designed for additional day students. College classes were inaugurated in 1925 for the future Mount Saint Mary's College, and a special building was built for them. The high school then offered three diplomas: Latin-Scientific, Academic, and Elective. Special Music diplomas were awarded to four-year pianists, organists, or harpists. Saint Mary's was accredited to the University of California and to Mount Saint Mary's College. When the latter was transferred to its present site in the Santa Monica Mountains in 1931, the college building was utilized by the Academy.
With future progress in mind and faithful to the CSJ mission of service "without distinction", St. Mary's again moved in 1966 to the present site in Inglewood. With the best and most modern facilities it would continue to provide a Christian/Catholic education in the spirit of the Founders. Cherished reminders of the old campus appear on the Inglewood campus. Among these are a statue of Mary, the cornerstone outside the chapel, the stained glass window in the front foyer which bears the school motto and seal, the victory bell in the Quad, and several trees which were transplanted from the Slauson site.
The original aim of the Sisters of St. Joseph of Carondelet, to educate for leadership and service, has persisted to this day. St. Mary's Academy continues to educate young women to take an active role as Christians in today's society, ever aware of the needs of others.